The average cost of a funeral in Australia ranges from around $4,000 to $15,000 depending on whether you opt for a cremation or burial and how elaborate the ceremony is.
The average cost of a funeral in Australia ranges from around $4,000 to $15,000 depending on whether you opt for a cremation or burial and how elaborate the ceremony is. In reality, a funeral can be as expensive as you want it to be.
Whether you're planning something simple or sizeable, considering the costs involved in a funeral sooner rather than later will help to make sure you and your family are prepared when you really need to be.
How much will my funeral cost?
The cost of a funeral will be influenced by a few factors, the first is whether you would prefer cremation or burial.
The average cost of a burial in Australia
A traditional burial is generally the more expensive option, depending on culture and funeral customs. This is largely down to the cost of a burial plot, which can be in short supply depending on where you would like to be put to rest. According to Finder, the average cost of a burial in Australia is around $7,430.
The average cost of a cremation in Australia
A cremation is often a little more cost-effective, with a national average cremation cost of around $6,900, according to Finder.
But remember that these are average price tags, and while some costs are unavoidable, you and your family can influence how much you want to spend by deciding which elements of a funeral are important to you for when the time comes.
Typical funeral costs include:
Funeral director costs
This is probably the most expensive part of planning a funeral, and includes things like the casket, hearse, death certificate and the services of a professional funeral director themselves. It can also include flowers and service booklets if you want them.
Venue hire
Depending on the type of service you want, your funeral can be held in different venues. Those who prefer burials sometimes have a service in a church before being transported to the cemetery, whereas a cremation funeral may have the service and cremation itself occur in the same place. If you're having a wake, you'll need to plan for the cost of catering and maybe a venue too, depending on how many guests you'll have.
Headstone
Having a headstone or monument is something many people want so they can be better remembered after they're gone. For a budget friendly option, you might just opt for a grave marker, while a monument or proper headstone will cost more. If you're opting for a cremation, perhaps you'd like to have a commemorative plaque, bench, tree or similar?
Cemetery or burial fee
There are two main costs to consider here, the right to interment (buying a burial plot) and the interment fee, which covers the work of opening and closing the grave, as well as ongoing maintenance.
Will my family have to pay funeral costs?
That really depends on what planning has been done beforehand. If you've prepaid for your funeral, put savings aside to cover funeral costs, or if you've got a Life Insurance or Funeral Insurance policy, that could ease the strain on your family's budget by providing the majority, if not all, of the costs.
It is a good idea to elect beneficiaries to receive your insurance payout, otherwise, if you have no will or other declaration for a beneficiary, your Funeral Insurance payout can be put into your estate amount to be divided up according to the laws of intestacy. Make sure you also let those people know what to expect, and how you'd like them to use the money. That way, you can leave the funeral planning up to your family, without the financial burden.
Tips for minimising the cost of funeral
Consider cremation
Because you usually aren't paying for a graveside service, expensive casket or cemetery burial, cremations can cost less than a traditional burial. You might choose to combine a simple, inexpensive cremation with a personal memorial service afterwards.
Ask for an itemised price list
When planning a funeral, don't be afraid to ask about the cost of each element of a funeral. This way, you can make sure you're only paying for what's necessary or important to you, and skip extras like sealing the coffin, newspaper notices, and even flowers or a hearse if you don't really want them.
Plan ahead with insurance
If you're prepared for the cost of a funeral, it will seem much less daunting, especially for your family members who need to organise the funeral. A Funeral Insurance policy can help with the cost of a funeral when the time comes by providing your loved ones with a lump sum to provide you with the send-off you would like.
Take a look at our Funeral Insurance features and benefits and get a quote online to see if Insuranceline could be the right fit for you.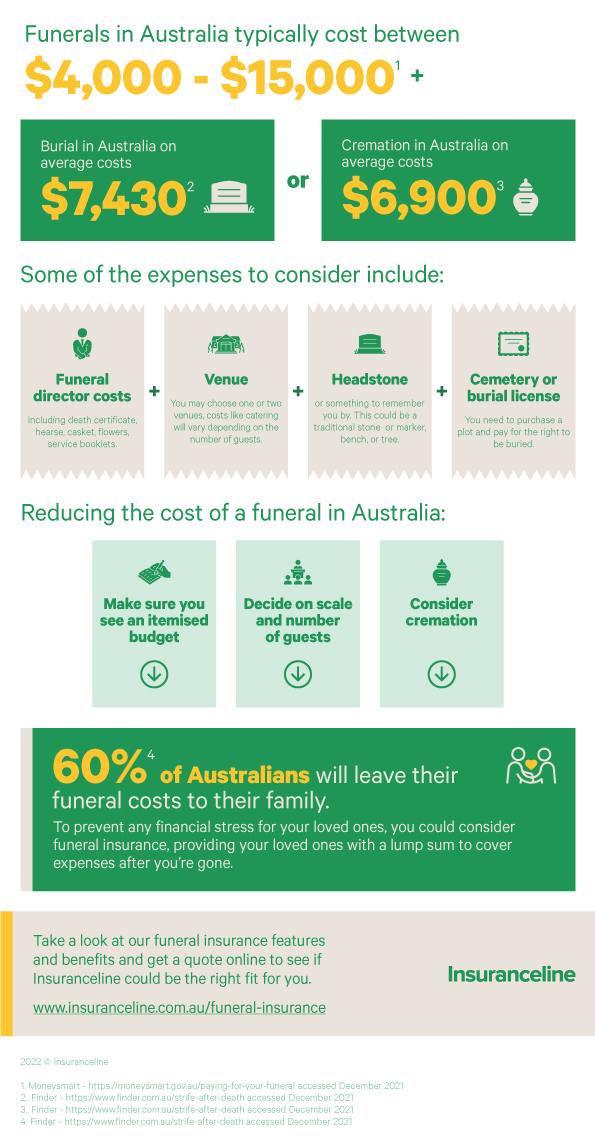 Important information
Cover under the Funeral Insurance Benefit is for Accidental Death only for the first 12 months of cover, including for any increases. Accidental Death has a special meaning in the PDS and some causes of death are excluded during this time—please refer to the PDS or call us for further details. After the first 12 months, the Funeral Insurance Benefit provides cover for all causes of death.